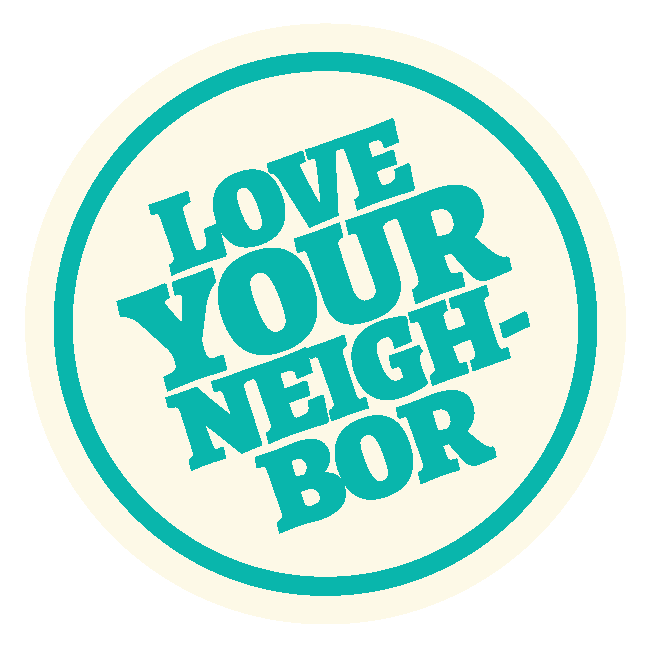 Sunday, October 8
Rev. Dr. Michelle Morris
Scripture: Luke 15:8-10
In this sermon, we will look at the extravagant love the woman heaped on her neighbors by throwing a party that undoubtedly cost more than the coin she spent the whole day trying to find. If there were ever a story of God's extravagant and abundant and wasteful grace, this is it.
---
dates at a glance

Saturday, October 7 - All Things Autumn
Sunday, October 8 - Jimmie Crabtree's Birthday
Tuesday, October 10 - Scholarship Concert
Wednesday, October 18 - Scholarship Chili Supper
Wednesday, October 18 - Charge Conference in Hines Hall
Saturday, October 21 - OneTogether Winery Tour & Lunch
Thursday, October 26 - Journeys of Paul Informational Meeting

---
Urgent announcements
In-Person Charge Conference
This year's charge conference will be held in person in Hines Hall or on Zoom (meeting ID: 891 8930 9837; Passcode: 72712) on Wednesday, October 18 at 6:30 p.m. Please join us for this important meeting setting the leadership for the church year.
Sager Brown February 2024 Mission Trip Registration
Save the date for a mission opportunity at UMCOR Sager Brown Mission, Baldwin, Louisiana, February 4 - 9, 2024
Task: Volunteers choose cleaning, organizing disaster supplies, light construction, or outreach opportunities in town.
While this is a working mission trip, it is also an opportunity for a spiritual retreat because we have rest time for reflection and devotion throughout our stay.

Sign-up deadline: October 31, 2023.

Cost: $330.00 per person including meals and lodging. Transportation is not included but we will try to coordinate as a group. Full payment is required at registration. Refund not guaranteed for cancellation.

** To learn more, come to a short informational meeting on October 15, near the coffee station after the 9 am worship service or in Hines Hall after the 11 am worship service.

Who to talk to: Kathy and Dan Dunn, Brad and Connie Anderson, Johnna Kosnoff
---
Community Events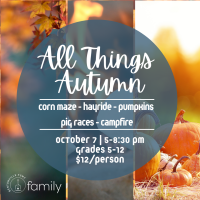 All Things Autumn
Saturday, October 7 | 5-8:30pm
For grades 5-12
$12/student
Break out your flannels and bundle up for a night full of "All Things Autumn."
We'll enjoy a field of sunflowers, hayride, pig races, a corn maze, a petting zoo, and dinner over the campfire complete with s'mores. Students are welcome to bring extra money to purchase other goodies at the snack stand or pay to bring home a pumpkin or sunflowers. (Just no livestock, please. ;)) Click here to sign up!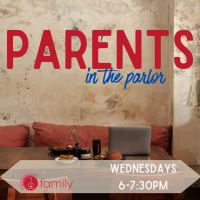 Parents in the Parlor
Not sure what to do after you drop off your kids for Wednesday night programs at 6pm? Come hang out with other parents! We will always start in the Parlor but may venture out to do other activities together. If you have questions or would like more information, please email Jenn Russell @
---
Community Events
Scholarship Chili Supper
You are invited to bring the family for a delicious bowl of chili with all the fixings On October 18 at 5:30 p.m. in Hines Hall at FUMC Bentonville, Arkansas. The chili is lovingly made by members of the Chancel Choir. A free-will love offering will be taken that will go to support the 2023-24 scholarship fund. This scholarship fund goes to support high school graduating seniors in Bentonville High School to assist them in pursuit of a higher Ed degree. For more information contact the church office.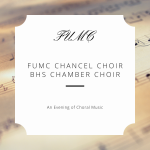 An Evening of Choral Music
Concert Featuring FUMC Chancel Choir &
The Bentonville High School Chamber Choir.
Tuesday, 10 October, 2023, 7:00 pm.
FUMC Sanctuary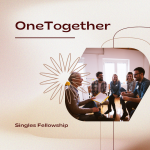 Upcoming OneTogether events
OneTogether, our new service and fellowship group for those who identify as single, will travel to the Post Winery for a tour and lunch on Saturday, October 21. To register for that trip, click this link: https://fumcbentonville.shelbynextchms.com/external/form/fcf9cbd8-e5fe-4db5-82e4-6759ebd6f61e
Jimmie Crabtree Birthday

The family of Jimmie Crabtree would like to invite you to a drop-in celebration of his 90th birthday. Join us Sunday, October 8, 2023, from immediately following the 11:00 service until 1:00 pm in Hines Hall. Refreshments will be served.
---
Other Annoucements
Journeys of Paul Informational Meeting
In October 2024, take a journey that helps your faith come alive in new ways, and cruise the Mediterranean at the same time! To learn how, come to an informational meeting on Thursday, October 26 at 6 p.m. in person in the Gathering Room or via Zoom (Meeting ID: 814 7816 1636 Passcode: 72712). To find out about the tour, click here.
Office Closed October 13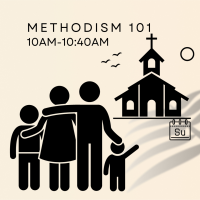 Methodism 101 - Starts Sunday October 8
Have questions about basic beliefs and practices in Methodism? New to Methodism or a longtime member who needs a refresher? Join Pastor Michelle for a 6 week class from 10 a.m. to 10:40 a.m. on Sundays starting October 8 to learn about some of the basics of our particular type of Christianity. The first Sunday we will gather in Hines Hall to assess what size classroom we need going forward. No need to sign up - just show up!
---
in case you missed someting...
---
Copyright © 2020 First United Methodist Church Bentonville

Our mailing address is:
201 NW 2nd Street, Bentonville AR 72712