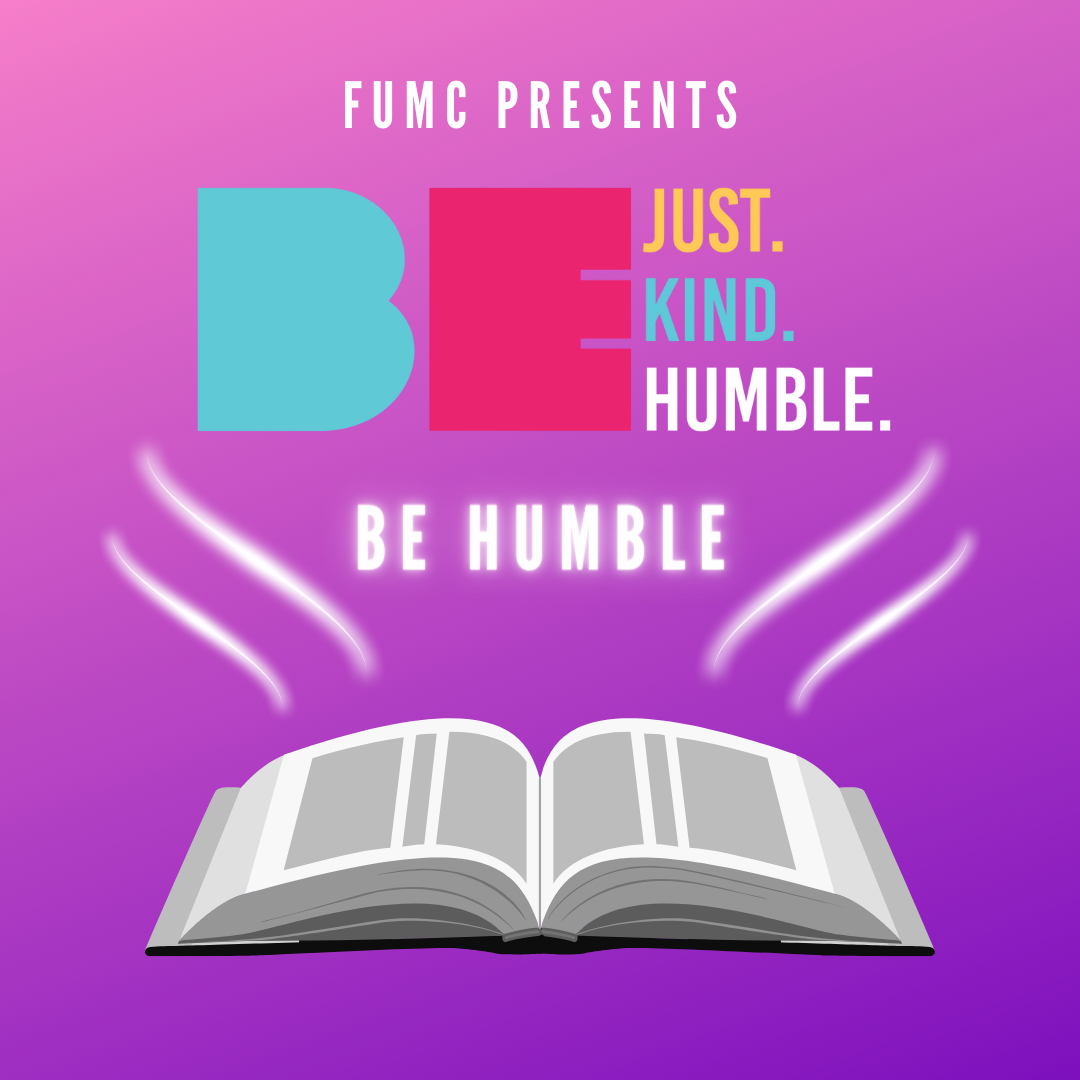 Sunday, September 3
Rev. Dr. T. Ray Wheeler
Even though we participate in and practice God's mercy and justice, we are not God. Nor are we better than any other of God's children. If there was one child who could claim that, it would be Jesus, and he set all that aside to model what it means to be humble for all of us.
---
dates at a glance

Sunday, September 10 - 1st Fall Grief Support Group Meeting
Sunday, September 10 - Human Sexuality and the Bible
Wednesday, October 18 - Charge Conference in Hines Hall

---
Urgent announcements
Office Closed Monday September 4 for Labor Day Weekend
In-Person Charge Conference
This year's Charge Conference, when we vote on leadership for the upcoming year and approve such details as pastor compensation and church insurance coverage, etc. will be in person this year at our church on Wednesday, October 18 at 6:30 p.m. in Hines Hall. The Chancel Choir will have a chili supper starting at 5:30 p.m. that night as well. Mark your calendars now!
Check Out Our Year End Report

Celebrate our Year of Jubilee by checking out our Year End Report. We ended right on plan financially, and have set a 2023-24 budget that grows toward our Beyond Us 2030 goal. Read the report at this link: urlis.net/yer
Wednesday Night Study Canceled for Next Two Weeks
To "recover" from a year in the Bible, and to make the transition to the next study pattern, Pastor Michelle's Wednesday night study will take two weeks off and resume on September 13 from 5:30 p.m. to 7:00 p.m. in the Gathering Room and on Zoom.
---
Community Events
Top Golf

Pastor Michelle will offer community office hours at Top Golf, every Thursday in September from 11:30 a.m. to 1:30 p.m.

Drop in and find her, or watch Facebook that day for the bay number.
Human Sexuality and the Bible - Small Group Study

For three Sundays beginning September 10, Pastor Michelle will be addressing questions around Human Sexuality and the Bible, particularly focused on the texts concerning LGBTQIA+ people. It is an open space for anyone to learn, and we will meet in Hines Hall at 10 a.m. You are simply asked to come with an open mind and an open heart and with a goal of loving and understanding each other better.
---
Announcements
Disaster Relief in Hawaii
If you would like to give to disaster relief in our country right now (Maui, West Coast, etc.), we have an UMCOR drop down option in online giving right now. Remember, 100% of that gift goes to disaster relief. Your regular giving every week helps cover the infrastructure of UMCOR. Also, some asked for a drop down option to give toward the Hines Hall air conditioner, so that drop down has been added too.
Be Just, Be Kind, Be Humble

This sermon series will complete the process of reading the Bible together, and tie in with our Be Just, Be Kind, and Be Humble emphasis. Micah 6:8 will frame the series, and each week we will focus on one of those aspects.
Showing Love Through Hospitality
Do you love helping people feel welcome? Join our Hospitality Team to serve as greeters before services, or to help prepare coffee hour, or get to know new visitors. We have another training September 10 after the 11 a.m. service in Hines Hall. Lunch will be provided! Click here to sign up:
https://fumcbentonville.shelbynextchms.com/external/form/f38b5269-a860-4559-9780-d9d9506e43a2
Congregation Care Team Needs Volunteers

Our congregation is growing, which provides us with many opportunities to care for one another. The Congregational Care team needs you! Will you prayerfully consider helping with one or more of these ministries? If you would like to be added to the team or have questions, please contact Pam Satterfield at . You may also call or text 479-202-3561.
---
in case you missed someting...
---
Copyright © 2020 First United Methodist Church Bentonville

Our mailing address is:
201 NW 2nd Street, Bentonville AR 72712